Local Events
Next Rogue Valley Audubon Meeting: October 23, 2018 @ 7:00pm

All regular Chapter meetings are held at 1801 E. Jackson Street in Medford, Lidgate Hall, at the Medford Congregational Church
October's Meeting:
"Swifting in the Valley: the Great Update"
Presented by Karen Hussey

Join wildlife biologist Karen Hussey for a glimpse into the amazing life of the Vaux's Swift. Discover what makes swifts unique, what mysteries remain, and what swifts have to do with hopscotch at Hedrick Middle School. Learn how a grant from RVAS has uncovered unexpected twists and turns in the swift story, and how you can help write the successful ending. If we are lucky, we may have a surprise appearance by Hedrick Middle School students.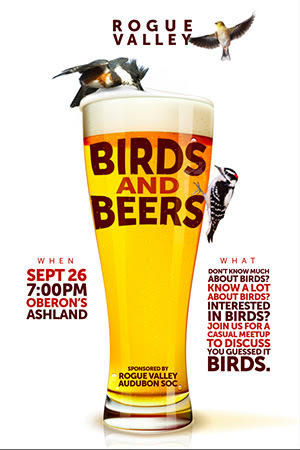 Rogue Valley Audubon is starting up a new Birds and Beers gathering! This informal get-together will be held every few months at various locations around the Rogue Valley and is geared toward anyone with a general interest in birds.

The next gathering will be TBD

This is a casual gathering for folks to chat with fellow birders about anything bird related. Topics may include upcoming field trips, current research, interesting sightings, conservation initiatives, favorite birding hotspots, anything you want to discuss. This new group will hopefully be a chance for birders to meet one another and enjoy a relaxing evening with one another over birds and beers!

Stay tuned for upcoming Birds and Beers gatherings!
For more information contact Emily Lind.