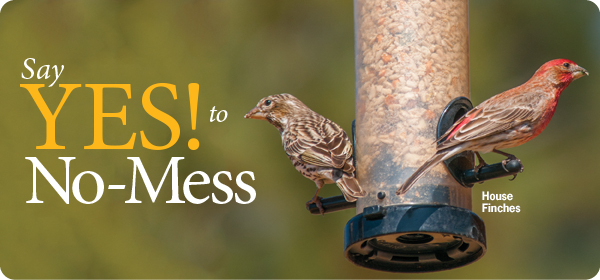 No Shells. 100% Edible.
Our unique No-Mess Blends are a tidy feeding solution that are perfect for attracting a wide variety of birds.They feature seeds without shells and are especially great near flower beds, patios and decks.
Pound for pound, our No-Mess Blends are the best value because you do not pay for uneaten seed or shell waste. The birds eat everything.
For a limited time, when you spend $60, we'll give you a 5 lb. bag of No-Mess DP Blend FREE.
Spend $60; Get 5 lbs. of No-Mess DP FREE*
*Valid only at the Medford, OR WBU store. One discount per purchase. Offer not valid on previous purchases or sale items. Offer valid in-store only 1/5/18 thru 1/14/18.
Join us for our new program Chickadee Chat on January 10th @ 10:30am
Calling all "bird nerds"! Join us for a bi-monthly get together to talk about birds! We'll drink some Bird Friendly® coffee or tea, join with fellow birders, and "chat". We'll start with a discussion of a current event from Cornell Lab of Ornithology or perhaps a good book we've just completed and then go in depth and really learn about a particular species of bird…How to identify it; What particular habits does it have?; What is its song?; Where and what does it eat?; In what habitat can you find it?
Our first Chickadee Chat will be on Wednesday, January 10th at 10:30am at the Wild Birds Unlimited store. Our first bird to discuss will be the Black-capped Chickadee! Come to share, learn and have fun with fellow bird nerds!